Baby floating device for pools
Rob Cox
Best Toddler Swimming Devices
We have lots of parents who work here at poolcenter, with lots of young swimmers, under 5 years old. They love to come in and browse the warehouse for the newest pool toys each summer.
For the purpose of testing out our toddler pool floats and child swim vests, we distributed these swim aids to our employees with young children, nieces, friend's children, etc. - anyone with a young person under 5 in their lives.
Moms chose from the child vest or toddler floats below, to test them out, even a few that we don't carry - so that we could get some real world reviews.
For kids under 18 mos, and unfamiliar with swimming, we offered baby or toddler pool floats, and we had another category of toddler swim floatation aids for older kids 2-5.
In return for the free pool floats, I got to ask a few questions. Here were their comments on these items, or their reviews and ratings of the pool floatation device that they randomly received to test out for you.
If you have your own comments on these or other baby, infant, toddler pool floats, let us know below!
Baby Pool Floats
Baby Tugboat
Really sturdy. I wasn't worried that my teething daughter would start to chew a hole in it. The awning is also very helpful.
My son loved the steering wheel. When he turned the wheel, I'd nudge the boat. He thought he was really steering it!
The tugboat is big, but not too heavy (15 lbs?), and it seems like it would be nearly impossible to tip it over, or capsize it.
Baby Spring Float
I like that it's so small and lightweight. Easy to move around and get into my little car.
The ring is inflatable, which gave me some concern, but it's actually a thick rubber, coated with a fabric.
I had trouble getting it to 'spring' back to the folded position, so it's always open, but I like it. The flat mesh ring around baby holds small toys or sippy cup, and they can splash a little bit in the water.
The seat gave my boy a red rash on his thighs - but he was having so much fun, jumping up and down in the seat (in a baby pool), that's probably why.
Toddler Floatation Swim Aids
Learn to Swim Tube Trainer
I stayed with her in the water and helped her adjust to the 'spare tire' around her chest. After a few minutes, she was spinning around like a top, and able to move about with some direction.
It took a few minutes to fill with air (it's a heavy duty rubber tube). Needs a bicycle pump, you can't blow it up by mouth.
He was a little 'tippy' for a few minutes, so we moved to steps so he could touch, then he started bouncing.
I thought this might be too small, and maybe tip over, so I stayed close (as directions say), but we did fine and had fun in the tube trainer.
It reminded me of ones I had seen when I was a child. I like that it gave him full arm and leg movement. The ring kept slipping up, so I added more air, and helped him learn how to push it down and lift himself higher.
USCG Approved Kids Life Jackets
These are definitely high quality life vests. It's important to order the correct size (there are 3) although they are adjustable, just like adult life vests.
They're very thick with large, easy to use clips. Adjustable straps. I can tell these are well made, and can't think of a downside. Probably the safest kids life vest there is.
You could also use these water skiing, or other boating activities.
Ilike that it covers a lot of skin - less sunburn to worry about.
The material can get kind of hot and sticky (same as foam pool floats), but is smooth and soft when wet.
Swim Steps Learn to Swim System
This was perfect for our learning to swim 4 yr old. We are going to remove a foam panel every few weeks this summer, as skills improve.
The bottom strap keeps it from riding up, and elastic cords tighten up the side with a quick release deal. The cords can pinch if you tighten it up to fast.
Definitely not a life vest, but does give enough floatation to keep their heads above water. When they get stronger, you can take out some of the floatation foam.
I found it hard to get it tight enough so that it wouldn't move around, without squeals of '..too tight!' and it would move left and right.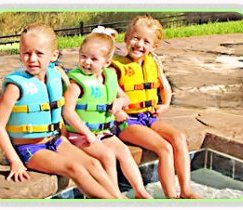 Source: blog.poolcenter.com